De mantra van Access Consciousness

All of life comes to me with ease, joy & Glory !!

Alles in het leven komt me toe met gemak, vreugde & glory !!
Wat zijn BARS?
De naam 'Bars' is te vertalen als 'banen' of als 'tralies' en is een verzamelnaam voor een 32 punten die energiebanen vormen door en om het hoofd. Daarin ligt de elektrische lading van alle gedachten, ideeën, houdingen, beslissingen en overtuigingen die je ooit hebt gehad als patroon opgeslagen.
Door deze specifieke punten met aanraking te activeren, laat dat deze banen toe om die spanning te ontladen, zodat wordt er meer ruimte gecreëerd voor nieuwe mogelijkheden. Het verandert de hersengolven en de elektrisch functioneren van de hersenen.
Elke Bar correspondeert met het aspect of gedeelte in je leven waar deze naar het genoemd is, bijvoorbeeld: alle energie van elke gedachte die je ooit hebt gehad over geld, is opgeslagen in de "geld" Bar.
Er zijn Bars voor: het lichaam, genezing, controle, bewustzijn, creativiteit, kracht, veroudering, seksualiteit, plezier, verdriet, tijd en ruimte, communicatie etc.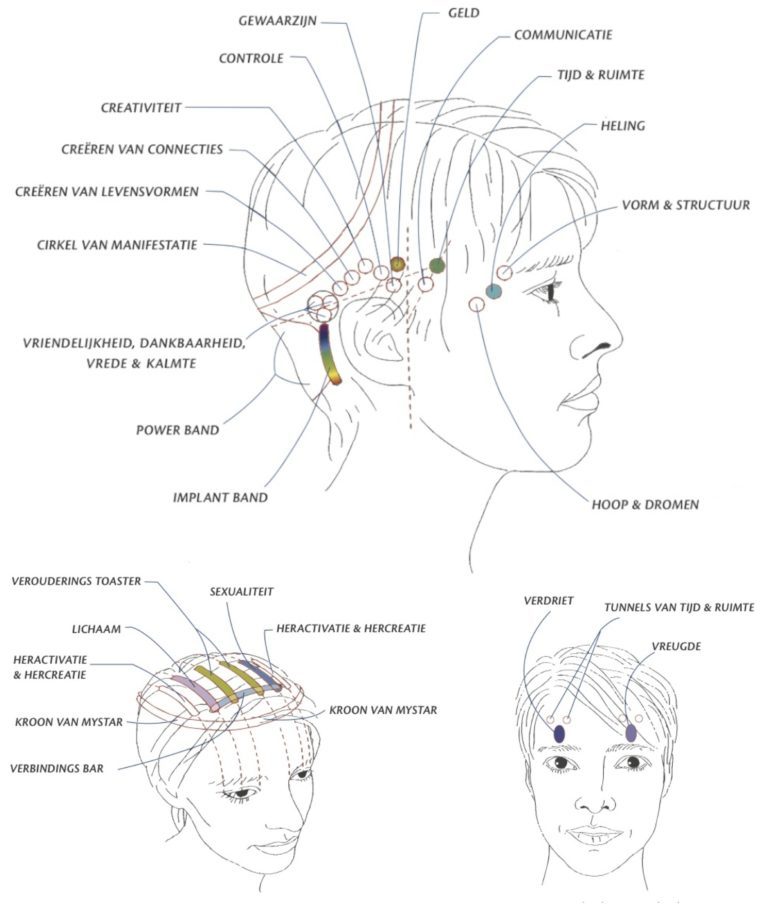 Access Consciousness™ heeft een uniek energetisch lichaamsproces genaamd ACCESS BARS™.
Voor iedereen die meer rust, ruimte en ontspanning wenst, in het hoofd en in het lichaam.
Naast de diepe ontspanning die dit proces verzorgt, biedt een Bars® sessie ook dynamische verandering, op alle vlakken van het leven.
Access BARS is een manier om een frisse wind door je energiehuishouding te laten waaien en om zonder te praten gedragspatronen en vastzittende emoties, gedachten en gevoelens te veranderen.
Een Access Bars® sessie kan een bijdrage zijn bij:
Als je stress en spanningen ervaart
Zich vermoeid voelen
Reuma
Fybromyalgie
IN HET HIER EN NU LEVEN
Als je veel in je hoofd zitten en het denken moeilijk tot rust kan brengen.
je moeilijk kan ontspannen
Slapeloosheid
De zin van het leven wat verloren bent.
Je niet blij bent met jezelf
Hooggevoelig zijn en veel energie en emoties van anderen oppikken
Slecht kunnen slapen
Veranderingen willen in hun leven of in veranderingen zitten
Loslaten van angsten.
Depressies.
Loslaten en veranderen van een negatief zelfbeeld.
Als je voluit van het leven wil gaan genieten.
Tegen angsten en fobieën.
Vermoeidheidsklachten.
Lichamelijke klachten.
Spirituele groei.
Piekeren (vol hoofd).
ADHD, ADD, Autisme bij kinderen.
Menopauze.
Zwangerschapsklachten
vruchtbaarheidsproblemen
Burn out
Geen zelfvertrouwen
Probelemen met eetpatronen (anorexia en boulimie).
Alcohol - en drugsverslaving.
Langdurige migraine.
Puberteit.
computerverslaving
Gameverslaving
Voor iedereen jong en oud
enz.....
Access Bars behandeling: +/- 60 min